In the News
In August, the professional soccer universe was turned on its head as superstar Lionel Messi signed a new contract with Paris Saint-Germain, ending his 21-year association with F.C. Barcelona. The Argentine Superstar announced he would be signing a two-year contract with the option to extend to a third year, which would pay him $41 million a year. 
The superstar's payment package will also include a new form of payment, namely $PSG fan tokens. These tokens are crypto native tokens which the club first introduced in early 2020 after partnering with Socios.com. Leading up to the announcement, $PSG fan tokens surged in price 164% to $58 per token. The value created provided loyal token holders with more upside than the simple pleasure of knowing they had just gained a superstar. 
Lionel Messi was not the first famous world footballer to participate in the Socios.com economy. In March of this year, Cristiano Ronaldo was honored by Juventus F.C. – an Italian soccer club andSocios.com partner – with 770 $JUV fan tokens as he broke Pele's 767 official match goal mark with a hat-trick against Cagliari. Juventus, the first soccer team in the world to launch a crypto token in 2019, has utilized its fan token to provide supporters with governance rights (via on-chain voting), fan decision polls, rewards for engagement, and price appreciation.  
Socios.com has continued to make inroads across the sports landscape. From the Champions League, to UFC, to professional tennis, the company is providing a framework to integrate fan engagement and blockchain. Their presence in the space is only growing. This week, Socios.com was named the official partner for the Ballon d'Or Awards – the Golden Globes of world football. In 2020, the Ballon d'Or Awards were viewed by 823 million people across social media platforms according to data from France Football. As the company continues to partner with teams and leagues, particularly with the U.S. big four properties, Socios.com could become a mainstay in the broader fan engagement landscape.   
Company Background
Chiliz is a blockchain-based platform that allows sports fans to engage and have a unique ability to monetize the experience of being a fan. Fundamentally, Chiliz addresses two issues that currently plague the sports industry: funding and engagement. The platform has the dual ability to allow fans to invest in and "control" their favorite sports organizations but also provides sports properties access to much needed forms of capital. The overall mechanism allows fans to feel more connected to teams as they are able to take real monetary stake in their favorite franchises.
Based out of Malta, the parent company – Chiliz -has been in the works since 2016. However, active work that included product & team development began in early 2018 when the company raised $66 million through Private Placement. A large portion of the initial proceeds have been used to fund the buildout of the world's first fan engagement & rewards app, Socios.com (a property of Chiliz).
The primary Chiliz offering is the Socios.com platform, a blockchain-enabled sports entertainment platform that empowers users with a variety of ways to directly vote on decisions that impact their favorite teams. The Chiliz platform's rich array of features gives teams and athletes new ways to connect with their fans and generate revenue.
The Chiliz Ecosystem
In order to understand the mechanics of and dynamics between Chiliz and Socios.com it is important to first make a distinction between a few of the companies' properties:
Chiliz: This is the world's first cryptocurrency exchange for sports, allowing crypto-enthusiasts and traders to speculate and trade existing Fan Tokens. "Chiliz" is the actual blockchain infrastructure upon which the entire platform operates. It is a payment and cryptocurrency platform used for blockchain-powered services and products which are targeted at mainstream consumers. To date the application has been predominantly utilized for sports, and in particular soccer. Chiliz enables unique fan engagement experiences that allow entities within the sector to incentivize and monetize audience participation. 
The blockchain infrastructure leverages existing blockchain technology – namely Ethereum with an additional side chain off of Ethereum. This means that the Socios.com platform runs on two different blockchains:
A permissioned sidechain (Chiliz sidechain)
The main Ethereum blockchain (base layer)
While the Ethereum chain is open-sourced, the permissioned sidechain is not.  In the past it has been called out for centralization concerns since it is a private rather than public chain, however using a permissioned sidechain also provides superior security for Chiliz. Furthermore, the sidechain was not intended to be open source and the ChiliZ governance team has made that clear from the start. The company has expressed that they value security over transparency. 
The transactional nature of the product (voting and actual trading of tokens) takes place on the sidechain. Once transactions are completed, the data is stored permanently in a public ledger on the sidechain and is accessible for all to see. By using a permissioned sidechain, Chiliz is able to dramatically reduce the transaction costs by using a Proof of Authority consensus mechanism to confirm the new blocks created. The sidechain also means the platform can scale to grow as needed without incurring exorbitant costs.
In summary – the ChilliZ platform is where the ChiliZ tokens are minted. Once minted, the ChiliZ tokens (a form of currency) can be used to purchase other team specific team tokens.  
Chiliz Token: The Chiliz Token ("CHZ") is a fungible token (not an NFT) that can be used on the Ethereum blockchain as a form of currency. The token is an ERC-20 and BEP-2 compatible utility token that powers the Chiliz ecosystem. This means that the tokens are compatible on both Ethereum and Binance (block chains upon which other blockchains can be built). Being both ERC-20 and BEP-2 means that the tokens can be easily adopted in international markets (Binance is used most by international countries) as well as domestically. The CHZ tokens can be traded on various exchanges including Binance, Coinbase, and the Chiliz exchange itself. 
Furthermore, the CHZ token is the base asset across the entire Chiliz blockchain. This means that all transactions on the Chiliz blockchain require an amount of CHZ. This includes token exchanges on the Chiliz Exchange, and the fan voting mechanism.
In summary – CHZ tokens are used on the Ethereum main chain to transact in any and all capacities. Once transactions occur they are permanently stored on the Ethereum public ledger.
Socios.com: Socios.com is the first-of-its-kind fan engagement platform that was created and deployed on the Chiliz blockchain. It is used by fans to buy branded 'fan tokens' from internationally recognized sports teams and organizations.
The platform empowers users with a variety of ways to vote on decisions that directly impact their favorite teams. Conversely, the platform's rich array of features provides team owners and league operators with new ways of connecting to their followers and generating revenue. As a highly engaged two sided marketplace, fans and owners alike can benefit monetarily from the transactions. 
Sports fans get started by joining the Socios.com platform and obtaining CHZ tokens, which can be used to purchase Fan Tokens for a particular sporting organization. While CHZ tokens serve as the exclusive currency of the platform, Fan Tokens are issued by internationally recognized sports teams and organizations and are tokenized representations of voting rights for their respective issuers. This means that by utilizing CHZ tokens (the main form of currency), fans can purchase these Fan Tokens which are minted by individual teams and organizations. Users who hold Fan Tokens for a team can vote on whatever decisions that a given team chooses to crowdsource to their supporters on Socios.com.
The Socios.com platform is underpinned by CHZ, which serves as a pricing benchmark and medium of exchange across the Chiliz ecosystem.
Community Fan Tokens
In building the Socios.com product and ecosystem, the fundamental value proposition for both fans and franchises is the ability to monetize fandom. As many legacy business models shift towards a more community based and participatory approach, the sports industry will be required to turn their current passive revenue model into a more active one. 
As it currently stands, there is a cap on the amount of revenues that teams and leagues can derive from broadcast revenues, tickets, and even sponsorships. We are reaching an asymptote of sorts as the size of stadiums is shrinking and the ability to increase pricing is diminished due to social pressures. Founder and CEO of Chiliz & Socios.com commented in an interview with macro investor Raoul Pal that fan monetization is the next and only frontier for teams to increase their revenues. 
"So the only thing that can grow in the sports industry is fan monetization. But what can you sell to a fan? There is always this dream of, oh, we're going to sell content, and they're going to have behind the scenes. Nobody buys this. The only content that people buy in sports is live sports; that's it. People don't really buy a replay. It's free on most of the platforms. And everything that is behind the scene is on social media, Instagram. And it's for free, because then, celebrities capture on that to sell their own sponsoring. So the only thing that you can create is this new relationship between sports teams and fans."

-Alexander Dreyfus, CEO of Chiliz & Socios.com
While the primary purpose of Chiliz and Socios.com is to create monetization through engagement, there is also an aspect of scarcity that comes into play. Like most things in sports, scarcity rules all – whether its tickets, collectibles, jerseys, etc., scarcity is the main driver of value.  With the ability to mint specific amounts of Fan Tokens, Socios.com has tapped into that ethos. 
Regular ticketing or apparel businesses are designed around a primary utility offering while at the same time benefiting from secondary markets with enormous transaction volumes. The global resale market for sneakers was estimated to be more than $6 billion and Socios.com anticipates that their fan tokens will be treated similarly. 
Current Value Proposition
As the product has come to market, teams have minted their own Fan Tokens and created unique experiences for their fans. The current product offering on the Socios.com app includes (but is not limited to) purchasing or "hunting" for fan tokens, voting on team specific polls, and participatory games and activities which earn rewards and unlock VIP experiences. 
Hunting for fan tokens: Token Hunt is an augmented reality geo-location enabled token discovery feature, where users can collect $CHZ (platform's loyalty Tokens) and on special occasions Fan Tokens for free. Token Hunt is a global experience. All you need to do is log-in daily, and see what's available to hunt down from any location. In February, Socios.com announced its largest token hunt with 750,000 $CHZ tokens available to users. 
Polls: Clubs publish polls regularly and they vary from club to club. Juventus has utilized such an initiative by asking their fans to choose a new goal celebration song. Additionally, Apollon Limassol (Cyprus) fans were able to choose the team's starting line-up. Polls conducted by teams can be binding or non-binding. A binding poll means the club will stick to the decision that's taken by the fans. A non-binding poll is where the club asks only for guidance from fans. 
Participate and win: An example of the "participate and win" feature for Socios.com was conducted by Inter Milan earlier this month. Holders of the Inter Fan Token were able to participate in a specific poll where participants who got 6 out 6 questions during a specific time period would be eligible to win a signed Inter kit. The participate and win feature demonstrates a unique way in which teams can better monetize their fans while fans are rewarded with unique participatory opportunities. 
While the current offerings are unique, the company has yet to scratch the surface of its capabilities. While the features are listed above, Dreyfus believes that the company has yet to unlock some of the key value propositions. Dreyfus believes that teams will soon be able to monetize "bragging rights" and essentially create a proving system for the most engaged and involved fans. 
The thesis is that the new era of fans is more fragmented than ever before. Fans flock to their favorite players as opposed to teams and thus have a "portfolio" of teams that they follow. As a composite for the modern fan, imagine an individual who loves Juventus for Cristiano Ronaldo, PSG for Messi, the Lakers for Lebron, and the Buccaneers for Tom Brady. As more and more teams are on-boarded onto the platform, the stronger the network effects of the platform become. Teams on the platform benefit from other teams joining as it increases the likelihood of participation across verticals. A fan who joins because they love Lionel Messi could very well end up buying Juventus tokens due to their Ronaldo fandom. 
As more and more individuals move into the Socios.com ecosystem – Socios.com can further expand their ecosystem to include sponsorship partners as well. According to Dreyfus, players will be able to engage with their clubs through commerce as well. Take for example a "regular way" purchase of merchandise.:  
If a fan owns a Socios.com VISA card, their purchases could be identified by the types of fan tokens they have associated with that card. If the individual were to purchase a Barcelona jersey from a Nike store – the store would be able to identify that purchaser as a Barcelona fan due to their token ownership. Rewards (i.e. discounts, cashback, etc.) can then be applied to teams' most active fans as they engage with sponsors, creating an alignment between all stakeholders within the transaction framework.  
Furthermore, Socios.com is looking to include other stakeholders as they move up and down the value chain. In April, Socios.com announced a partnership with Japanese e-commerce and Fintech behemoths. Japanese electronic commerce company Rakuten has also forayed into the space. Looking to expand its footprint in the European markets, the company has agreed to allow users in Spain, UK and Germany to participate in the Socios.com ecosystem. Through this partnership, Rakuten customers in Spain, UK and Germany can use Rakuten points to redeem Fan Tokens – collectible, tradable digital assets that provide owners with benefits including voting rights, VIP rewards, club & sponsor promotions, AR-enabled features and super-fan recognition on Socios.com. Currently, Rakuten members can earn points through loyalty rewards programs on everyday shopping and redeem them in a multitude of ways including gift cards, movies, e-books, and other's. 
According to an article by FinExtra, Cédric Dufour, Managing Director Open E-Commerce for Rakuten Europe stated: 
"Our goal is to create an innovative, customer-centric membership program unlike any other in the region. Key to this is the right mix of great value, unique offers and exclusive features for consumers. Thanks to the partnership with Chiliz and Socios.com, we are now the only loyalty program to integrate the possibility to redeem points for tokens – a huge benefit for Rakuten customers and a big step towards making our diversity a game changing strength in the industry." 

-Cédric Dufour
Rakuten provides an actionable example of how members within the sports value chain can utilize the Socios.com business model to their advantage. Sponsors, partners, and affiliates alike can further engrain themselves into the sports ecosystem as they provide fans with increased utility in their engagements with various brands. Whether it be Nike, Puma, Pepsi, or Visa, these companies can gain a monetary benefit from increasing their own utility to fans. 
Current Socios.com Market and Tokenomics
Tokenomics is known as the "study" or analysis of the economics of various types of cryptocurrencies. The determination of a quality of an asset within the blockchain space can vary from more traditional assets. Below we have listed some of the key determining factors in asset valuation and tokenomics:
Supply: Supply is a crucial factor in the design of Tokenomics with a lot of these coins having massive supplies. When determining the supply of tokens, the key phrase is "in circulation". In general, almost every project has coins or tokens not in circulation because they are locked or yet to be mined. Just as in regular economics a large supply has downward impacts on price and vice versa. 
Asset Construction: This is basically the asset classification of crypto. Like stocks and hard assets are treated differently in the financial world, tokens and coins are treated differently in the crypto world. Tokens differ greatly from crypto commodities (coins) like Ethereum and others.  There are fundamental differences to understand even if people use them interchangeably. Coins native to their own blockchains (Layer 1) means that they are only utilized within the rails of that particular blockchain.  Notable examples include Ethereum, Cardano, and Polkadot. On the contrary, tokens do not have their own native blockchains but live on top of established blockchains (Layer 2), they can even reside on multiple blockchains (e.g. Chiliz exists as an ERC20 token on Ethereum and BEP20 token on the Binance smart chain). The most important difference between crypto coins and crypto tokens is how they are treated by regulators. Coins, on the one hand, can function like currencies driving the exchange of value. Tokens, on the other hand, have the characteristics of publicly traded stocks in a company. This means that regulators such as the SEC treat the assets differently.
Utility: The role of utility or use cases in the economics of a crypto asset is perhaps the most important when applied to Chiliz specifically. Utility is determined primarily by use case. It includes anything driving adoption and demand such as Bitcoin having the primary use case as being a store of value like gold but with democratized access. Others, like Ethereum, have the utility of network fees. Decentralized finance ("DeFi") tokens have the utility of being votes (like equity stakes in public companies) in the governance of protocol.  This means when the total value locked in a protocol increases so too does the demand for its governance token.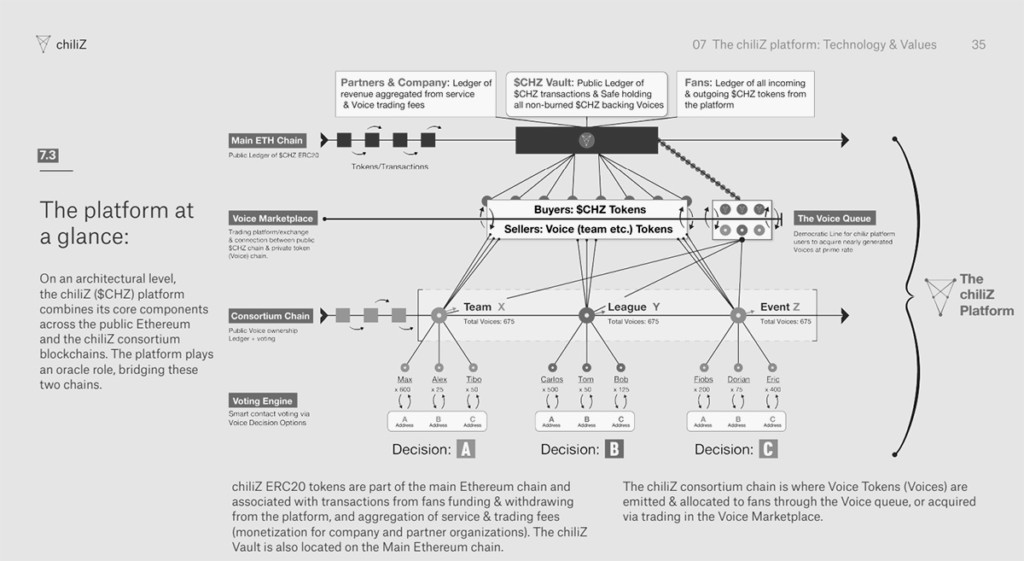 Given the "Tokenomics Primer" above, it is important to note that the overall utility and intended use case for the Chilz coins is to bring individuals onto the Socios.com platform. The stated objective is to build network effects and not necessarily value appreciation. The Chiliz tokens facilitate transactions for fans to engage with their teams. 
Below we have outlined the supply statistics related to the Chiliz token initial coin offering. In April of this year, the Chiliz coin saw massive adoption and an associated increase in price. At its high on March 13th ($0.83) it represented  a 4050% increase. Since then, the price has come back down – commensurate with other crypto assets during Q2 and Q3. The price now hovers around $0.44 with a total market capitalization of ~$2.65 billion. Below is the breakdown of the Chiliz token distribution:
CHZ Token Distribution (in tokens):
Total Chiliz supply: 8,888,888,888
Private Placement:  3,066,666,666
Team + Seed Investors: 1,111,111,110
Advisory Board:  266,666,666
User Base Reserve:  1,777,777,780
Marketing Operations:  1,333,333,333
Strategic Acquisitions:  1,333,333,333
If you would like to follow the Chiliz token pricing, below we have listed links to various exchanges that track pricing:
Chiliz Pricing:
Coin Market Cap:https://coinmarketcap.com/currencies/chiliz/
Coinbase: https://www.coinbase.com/price/chiliz
Coingeko: https://www.coingecko.com/en/coins/chiliz 
Participating Teams and Organizations
In the past six months, the Socios.com platform has added various major U.S. based franchises including members of the NBA, NFL, and MLS. Having proven out the initial business model in primarily European soccer leagues, the company has aggressively expanded into the U.S. markets. As the company continues to increase its U.S. footprint, we will be tracking the new ways in which the company looks to create activations with its partners.
Below we have listed the company's primary partners – professional soccer teams: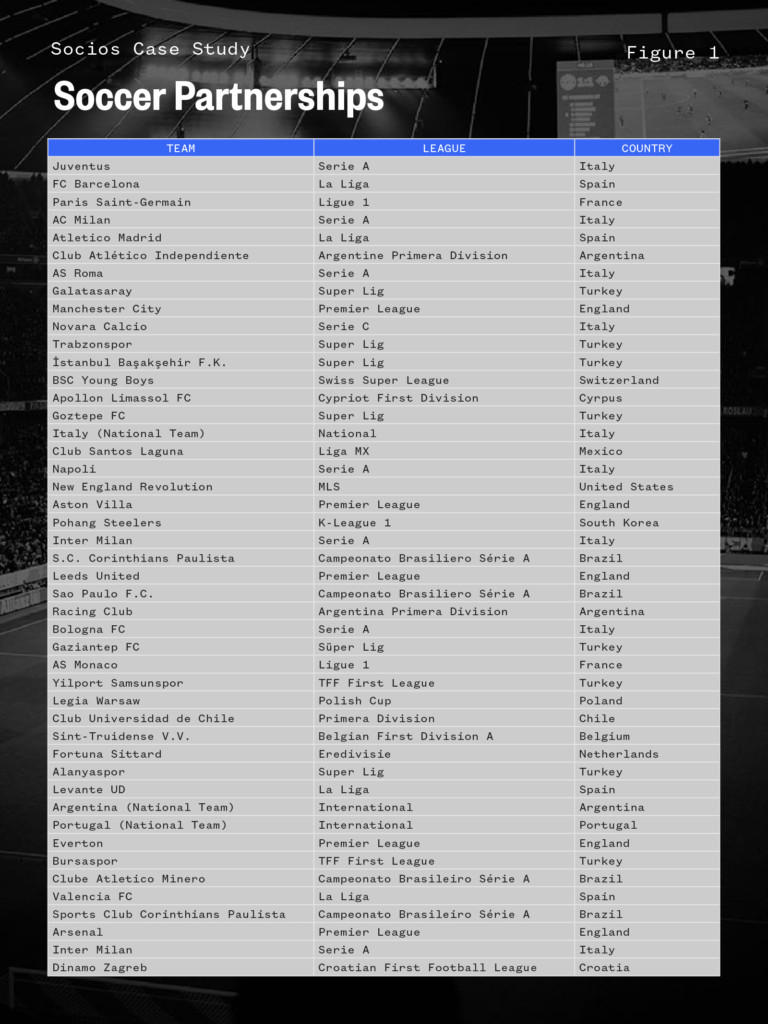 Additionally, we have included their investments in non-soccer properties below: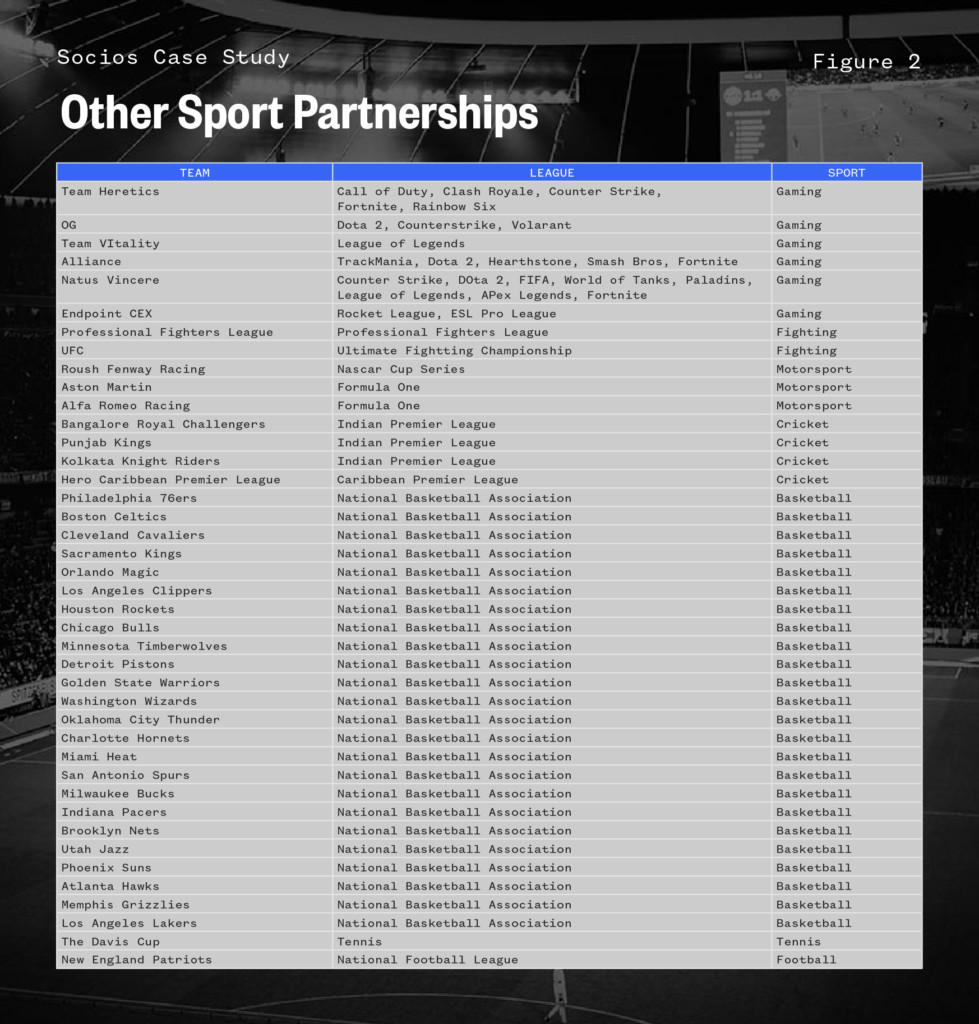 Final Thoughts
Going forward, the most important task for the team at Socios.com and Chiliz is customer education. Teams and leagues have been slow to adopt the new technology thus far. Much of the hesitancy to date has been around the technology. 
"Right now, the sports industry is difficult, because, let's be realistic, when we started three years ago to engage with these clubs, it was all about education. Three years later, it's still all about education, and in the next three years, it's still going to be all about education. Why? Because people don't understand what we do sometimes. Sometimes we sign deals that are very successful for the teams, make millions of dollars, and yet, sometimes, the management doesn't completely get what we are doing. And I'm not afraid to say that, because it's true. And it's OK"

-Alexander Dreyfus on Real Vision
Clubs are currently unwilling to "give away" valuable IP, information, experiences, and other benefits to a technology or concept that they have yet to see fully proven. Our take? The ability to monetize fans in new and inventive ways will be not only a benefit, but a necessity in the coming years. As revenue streams continue to be arbitraged out, Socios.com provides a legitimate path to monetization. 
For any questions regarding the report, please reach out to me directly at [email protected]
Socios.com: A Case Study in Blockchain Applications for Sports