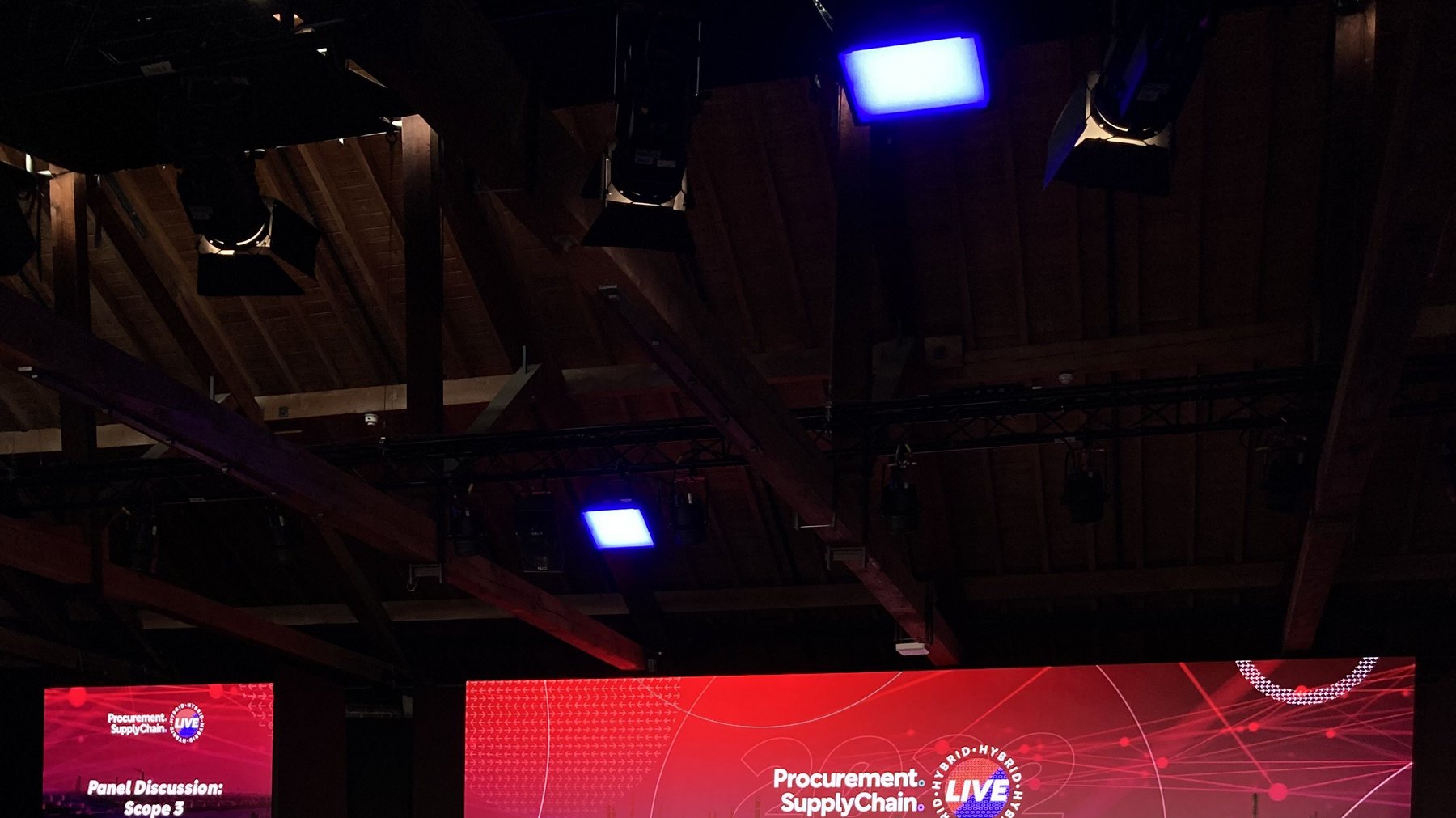 BizClik Media Group (BMG) received a great turnout at the inaugural Procurement & Supply Chain LIVE in 2021, so the show has returned and completed its first day at the Tobacco Dock venue. Leaders from across the globe descended on London to discuss important business topics, such as supply chain management, risk and resilience, digital transformation and supply chain sustainability. 
Separated into two in-person stages and two digital stages, the show provides a whole host of insights from industry leaders to attendees both in-person and virtually. Here are some of the highlights from day one as we get excited for day two of the first Procurement & Supply Chain LIVE of 2022.
Frank Soudan, SAP: Building a resilient supply chain and procurement network 
Kicking off Day 1 on the Main Stage of the Procurement & Supply Chain LIVE: The Risk & Resilience Conference, SAP's Frank Soudan, Head of Digital Supply Chain Industry 4.0 opened his keynote by stressing the importance of technology to become resilient.
"There is no time to lose!" said Soudan. "Organisations will have to invest in order to grow, and the journey to resilience starts with technology."
Before now, the CEO saw supply chain management as a low priority, leaving it to the COO and finance teams. In recent years, the conversation around the supply chain has shifted, with it being seen as a source of winning and growth. 
With businesses being more dependent on each other than ever before and equally more complex, COVID-19 has highlighted the fragile balance, with supply chains at the centre of that dependency. 
As such, Soudan circles back to the significance of technology, but warns: "Beware a quick win. Don't create a Frankenstein enterprise, platforms need to integrate with the wider organisation."
He adds: "Resilient businesses need digitalised operations and supply chains built for speed and flexibility through agility, productivity, connectivity, and sustainability. With this digitalisation, supply chains can remove organisational silos and provide a competitive advantage."
Daniel Weise, BCG: Profit from the Source
"The world is fundamentally changing," begins Daniel Weise, Managing Director and Partner at BCG. In the last two years, alone organisations have battled pandemics, shortages, inflation, climate change, political shifts, natural disasters, sanctions, and war. 
Procurement can offer benefits to organisations beyond cost savings which can be derived from three core building blocks within the organisation to maximise value: the CEO, the company, and the company's ecosystem. 
"Procurement will change with digitalisation," says Weise. "While the cost of procurement will be the same, teams will be smaller and much more effective as a result, driving greater value from the investment made."
Daniel Weise, BCG; Geraint John, Interos; and David Shepherd, LSEG: Risk & Resilience Panel 
For Procurement & Supply Chain LIVE's first panel of the day, Daniel Weise, Managing Director and Partner at BCG; Geraint John, Vice President of Interos Resilience Lab; and David Shepherd, Global Head of Strategic Partners Director and Risk at LSEG joined on stage Scott Birch, Chief Content Officer at BizClik Media Group. 
Is risk and resilience the only story in town?
"No but it is the highest priority now," says Shepherd. "It is definitely the main story. The spotlight is on supply chains as a profession, which presents an opportunity for us to step up," adds John. 
Are these unprecedented times for the industry?
"They certainly are," says John. "It has been a wave after wave of crises, and organisations are challenged with balancing their strategies to be prepared for the big disruptions while keeping an eye on the day to day challenges."
"The pace of risk is changing," adds Shepherd. "This is not the first time we have faced disruption and it won't be the last, contingency planning will be important to navigate these challenges. And those that are the quickest to react to risk will gain a competitive advantage."
Agreeing John says: "The acts of the last few years have put supply chain disruption and resilience front and centre, we all have a role to play and its important to build a risk-aware culture, instead of it being a tick box exercise."
Is sustainability taking a back seat over risk and resilience?
Shepherd emphasises that this is not the case. "No conversation being had with stakeholders doesn't look at this as a factor, the ESG story is incredibly strong, and sustainability is becoming a mature topic."
John adds: "10 years ago, sustainability would be a low priority for procurement and supply chains, if you mentioned sustainability at a conference people would switch off. But today the general trend is that sustainability is being taken a lot more seriously.
"It is a common belief that action needs to be taken when it comes to ESG," adds Weise. 
George Laurie, Forester Research: Smart manufacturing technology is reshaping global trade partners
George Laurie, Vice President and Principal Analyst at Forrester Research took to the Main Stage to deliver his keynote on How smart manufacturing technology is reshaping global trade patterns. 
Laurie identifies the four factors driving new approaches to anticipate and fulfil demand, with technology coming to the rescue. "But t's not just about visibility," says Laurie, "organisations need to be agile as well. Rigid supply chains must become adaptable and collaborative supply networks."
"There is always a risk, there is always an opportunity, smart organisations build into and test responses to risk into their operations to drive resilience and maintain a competitive advantage when they occur."
Milind Tailo, Diebold Nixdorf; Deepti Malhotra, Symcor; Simon Geale, Proxima; and Jonathan Colehower, UST: Digital Procurement Panel 
Joining Scott Birch, Chief Content Officer at BizClik Media Group on the Main Stage, Milind Tailo, Senior Director of Procurement at Diebold Nixdorf; Deepti Malhotra, Director of Procurement and Vendor Management at Symcor; Simon Geale, Executive Vice President of Procurement at Proxima; and Jonathan Colehower, Global Supply Chain Strategy Practice Lead at UST discussed digital procurement.
How can digitalisation help navigate supply chain disruptions due to COVID-19 in Shanghai?
"Being one of the largest manufacturers and ports in the world, when disruption hits Shanghai the world shudders," says Geale. 
Colehower adds: "Automation and digitalisation reduce mistakes and frictions. The more I can see, and the further out I can see the better I can plan."
So while supply chains should prepare for more challenges ahead, the technology discussions being had now will help those in the future. 
Is data being used properly? 
While today's organisations have a better understanding of data to drive change, Malhotra highlights the gaps when it comes to accessing and driving intelligence from data. "Contextual information is missing. How can organisations make data available to all?"
Tailo adds: "Technology is enhancing data and making it more accessible, but with that organisations need to ensure that they standardise their processes."
Colehower agrees, adding: "We are no longer lacking data, we have too much data. Organisations need to better understand the data they have in order to ensure they do not get lost in the unuseful information."
Why are many digital transformations failing?
Simply put, Geale attributes this to poor technology. "In 1985 the world took a monkey into space. Yet we are in 2022 and people still can't successfully manage their contracts!"
He adds: "Surveying leaders in the industry 40% expected their digital transformations to fail before its even started. 60% couldn't articulate the benefits, and those that could, failed to live up to the expectations."
"Procurement digital transformation shouldn't be done in isolation to the overall company digital transformation," says Tailo. "Alignment with the wider strategy is key."
Jonathan Colehower, UST: Private trading networks
During his keynote speech,  Jonathan Colehower, Global Supply Chain Strategy Practice Lead at UST began his discussion by detailing 'what's hot' and 'what's not' in the supply chain space, and the six lessons learned from COVID-19. 
Colehower also looks at the importance of understanding the global risks as well as those that are local, to calculate the probababiity and create effective action plans.
During his speech he remarks: "Why were we surprised by the Suez Canal blockage, it has happened five times before!"
IBM brings insights into supply chain transformation
Bob Booth, Senior Partner, Finance & Supply Chain Transformation (FSCT) Lead, IBM Consulting, UKI, sat down with Blaise Hope, Editor-in-Chief of Sustainability Magazine, to discuss finance and supply chain, we get a feel for the changes that have taken place over the past few years from a procurement perspective. 
Booth delves into some of the ways in which procurement has adapted in relation to Brexit, as well as other unprecedented events like COVID-19 and the war between Russia and Ukraine—Ukraine accounting for around 30% of grain production, which is one of the knock-on effects of the conflict. 
Later in the session Booth moves on to explain the 'moments that matter' concept—one that emphasises the need for clarity over supply chain responsibilities. He also stresses, when asked by the audience, that a particular level of trust must be given to technological solutions to provide accurate, real-time Scope 3 data. 
Procuring solutions to save lives
Guy's & St Thomas' NHS Foundation Trust (GST) is responsible for the procurement strategy and operations of some of London's most prestigious hospitals, including one of the most significant training hospitals in the country. David Lawson, Chief Procurement Officer at GST joined Procurement and Supply Chain LIVE on stage two to talk about the organisation's journey to date and the effects that COVID-19 had on the development of digital solutions and logistics. 
The group relied heavily on mutual aid from neighbouring hospitals as well as support from other organisations, with connections to the military, for the delivery of FFP masks, which became very high in demand during the onset of the coronavirus. Over a few months, Guy's and St Thomas' hospital increased its demand for FFP masks from 100 to 5,000, requiring a significant overall of stock from alternative sources. 
Lawson also talks about the organisation's forward planning and how the traditional approach no longer applies to the Trust as it moves forward to implement resilience into healthcare.
"What we've identified is not to be reliant on one solution, but a range of options. We've still retained the level of capability around 3D printing. We're linking it now with sustainability and what was clear was our dependence on single-use products manufactured across the world," says Lawson. 
"We're trying to improve our resilience by not having those dependencies and also creating our own buffer, which, a few years ago, would've been seen as a bad thing to do."
The NHS talks supply chain visibility and post-pandemic
During the extending networking break—lunch—at Tobacco Dock, Scott Birch, Chief Content Officer at BizClik Media Group, sat down with Jacqui Rock, Chief Commercial Officer, Preeya Bailie, Director of Procurement at NHS England and NHS Improvement, and Pia Larsen, Director of Procurement & Supply Chain at UCLH, took part in a panel discussion, 'Demstying Procurement in the NHS', which highlighted the important role of procurement professionals in the organisation to account for its use of funding. The emphasis of the organisation seems to have shifted from the focus on cost to the incentives of value. 
"Supply chain visibility was our Achilles heel and the fact that we weren't mature enough in our own organisations to have that end-to-end visibility in the supply chain was something that was deeply problematic," says Larsen. 
"The lack of investment in the NHS in supply chain technology, visibility and intelligence has probably been the biggest lesson to come out of the pandemic."
Later in the show, Rock took the stage on her own to discuss more details on the NHS's sustainability strategy and plans to achieve emissions reduction targets as she claims the organisation contributes 5% of the UK's total emissions. 
Rock also puts into perspective the scale of the organisation and the importance of a diverse supplier base. "It is difficult knowing how to work with the NHS as a small supplier," says Rock. 
"We try and make sure that we've got very clear pathways for SMEs to come and work with us." 
"I think there is space for both" large and SME suppliers. "I think we can work with smaller organisations. Often with SMEs, it's about size and scale. It's about whether they can scale up to work with the NHS. 
Join day two of Procurement & Supply Chain LIVE
Closing the first day of the show, the team is preparing for day two at Procurement & Supply Chain LIVE, which will feature more experts and thought leaders from the supply chain realm. Join us on the second day for more insights and supply chain discussions.
Catch all of the Procurement & Supply Chain LIVE sessions on-demand after the show and connect with thousands via the Brella app.
https://supplychaindigital.com/digital-supply-chain/procurement-supply-chain-magazines-begin-second-live-show