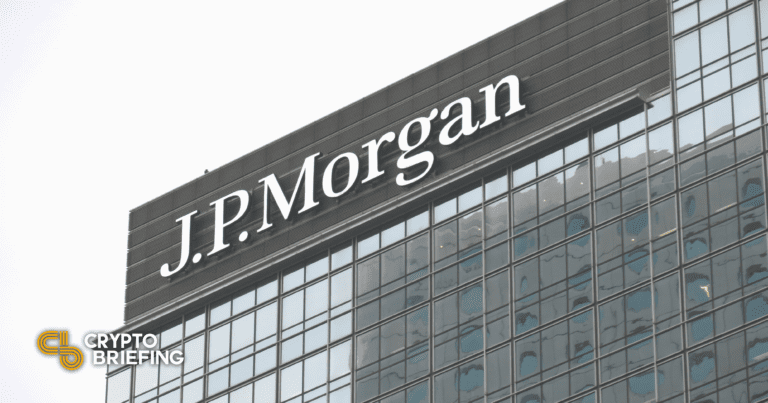 Key Takeaways
JPMorgan has begun to use blockchain for collateral settlements, beginning with a pilot transaction performed last week.
The transaction involved assets from BlackRock, which was not directly involved in the transaction as a counterparty.
Though JPMorgan has embraced blockchain for institutional use, its CEO, Jamie Dimon, remains critical of Bitcoin.
JPMorgan is using blockchain technology for collateral settlements, according to new reports from Bloomberg.
Transaction Involved BlackRock Assets
In a pilot blockchain transaction, JPMorgan Chase & Co. transferred tokenized money market fund shares (a type of mutual fund) as collateral on Friday, May 20.
The transaction involved assets from BlackRock, the world's largest asset manager. Blackrock was not directly involved in the transaction as a counterparty. However, Blackrock has been "heavily involved since Day One" and is still exploring blockchain technology according to Ben Challice, JPMorgan's global head of trading services.
The innovation will allow investors to use a wider variety of assets as collateral and carry out transactions outside of market hours. Challice noted that the transaction accomplished a "friction-less transfer of collateral assets on an instantaneous basis."
JP Morgan also plans to expand tokenized collateral to include equities and fixed income, according to today's report.
JPMorgan's Previous Blockchain Efforts
JP Morgan has been heavily involved in blockchain over the past several years and has created various products.
It launched Quorum, an enterprise version of Ethereum in 2016. Quorum was acquired by ConsenSys in August 2020. Following that sale, JP Morgan launched a new internal blockchain product called Onyx and its own internal stablecoin in October 2020.
JPMorgan also began to use blockchain for transactions related to repurchase borrowing in 2020. According to Bloomberg, more than $300 billion of value has been handled through those transactions, some of which involved Goldman Sachs.
Despite the company's recent willingness to embrace blockchain technology for institutional purposes, it has also become infamous for CEO Jamie Dimon's long-standing hostility toward Bitcoin. Dimon has at times called Bitcoin a "fraud" and "worthless", but more recently has conceded that there is client demand for it.
Yesterday, an investor note from JPMorgan placed Bitcoin's fair value at $38,000—higher than its current value of $29,300.
Disclosure: At the time of writing, the author of this piece owned BTC, ETH, and other cryptocurrencies.