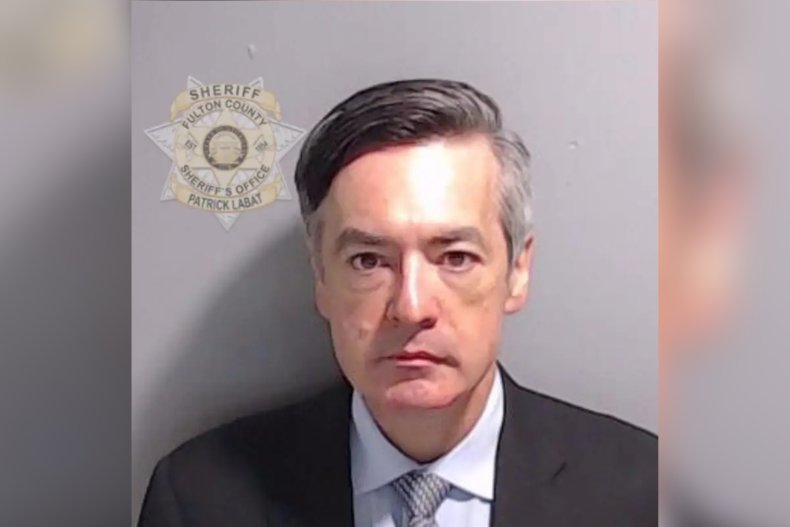 A list of names of potential witnesses submitted to a court in Georgia by one of Donald Trump's co-defendants in an election interference case in the state has been described as "self-destructive" and a move that "could backfire" by a legal expert.
Attorneys for former Trump campaign lawyer Kenneth Chesebro filed a list of 52 names with Fulton County Superior Court on Thursday, ahead of a trial due to start on October 23, including several high-ranking allies of the former president.
He and 18 other co-defendants, including Trump, are accused of conspiring to unlawfully overturn the 2020 election results in the state, over a plot to install so-called false electors who would vote for Trump instead of Biden. All have pleaded not guilty and deny any wrongdoing.
Chesebro reportedly crafted memos that outlined possible legal avenues for challenging the election, including putting up alternative electors. His attorney, Scott Grubman, said following the indictment in August that his client "stands ready to defend himself against these unfounded charges."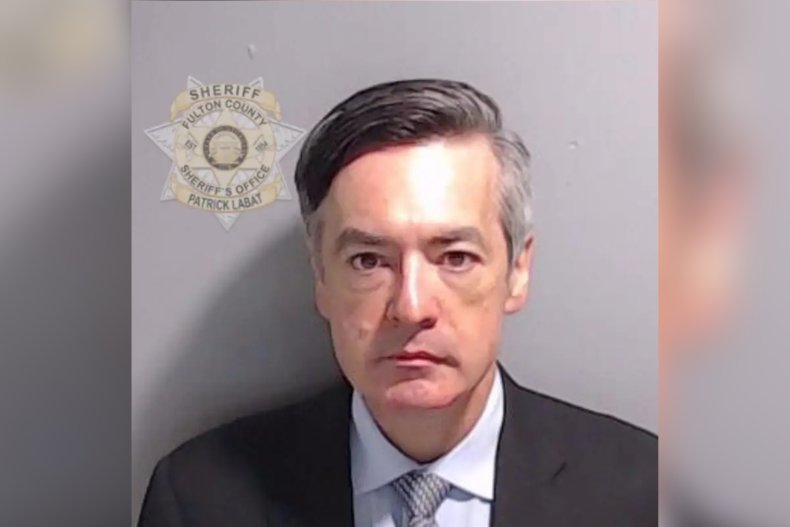 But Ryan Goodman, a former special counsel for the Department of Defense and a legal scholar, told CNN on Thursday that Chesebro was "playing with fire" with some of the names he wished to call to the stand.
"It's a very strange list," he said. "In some sense, I wonder if it's all real—in the way in which he doesn't necessarily have to end up calling them. But it's a very long list and some of the names, it's hard to compute what they're thinking."
Goodman picked out Matthew Morgan, counsel to the office of the vice president during the Trump administration, as one name that could cause trouble for Chesebro's defense.
"Morgan's testimony to the January 6 committee…is very damaging to Chesebro and he's locked into that testimony now—it's not like he's going to give different testimony, in all likelihood, in a trial," Goodman said.
"His testimony is that he and other Trump campaign lawyers backed totally out of the false electors scheme when they realized litigation had been exhausted and they said: 'Give it to Chesebro because if he wants him to pursue it, let him do it, but what he's doing is not the original plan,'" he added. "The original plan was to make a contingent and call them contingent electors on the basis of litigation."
Goodman then explained that, according to Morgan's testimony, Chesebro went on to pursue "a second plan which was just to submit these false slates regardless of winning litigation. That's what Chesebro's in deep legal trouble for. Morgan on the stand is not good for Chesebro."
In Morgan's testimony to the January 6 committee, he said that after the date had passed at which new electors could in theory be legitimately appointed, "it's my recollection that Mr Chesebro suggested that we submit them anyways."
He added that he was of the view "that he needed to execute those tasks on his own."
Grubman told Newsweek: "I'm not familiar with Mr. Goodman or his work so I can't comment on his opinions as to my legal strategies, but as this case proves, reasonable lawyers can always disagree, so I certainly respect his opinion, even if I don't agree with it."
Chesebro is due to stand trial with Sidney Powell, another former Trump campaign lawyer, on conspiracy and racketeering charges, after both pushed successfully for an accelerated trial.
A firm date for the other 16 co-defendants has yet to be set, and could be delayed by other legal troubles Trump is embroiled in elsewhere.
Update 09/25/23, 2:27 a.m. ET: This article was updated to include comment from Grubman.